FÆLDETYPE

ARTER

SLÆGT

FAMILIE

UDBREDELSE

PASSIV
Faldgrube

2
1
15
1
8
117
1

Brocchinia
Catopsis
Heliamphora
Darlingtonia
Sarracenia
Nepenthes (kandebærer)
Cephalotus

Bromeliaceae
Bromeliaceae
Sarraceniaceae
Sarraceniaceae
Sarraceniaceae
Nepenthaceae
Cephalotaceae

Venezuela, Guayana
Sydlige Florida - SØ Brasilien
Guayana
Oregon - Californien
Østlige USA - Midt Canada
SØ Asien, Madagascar
SV Australien
Limpind

1
2-7
1
1

Ibicella
Byblis
Triphyophyllum
Drosophyllum
Martyniaceae
Byblidaceae
Dioncophyllaceae
Drosophyllaceae
Sydlige USA - Mexico
Vest Australien
Sierra Leone - Liberia
Portugal - Marokko (kyster)

A
K
T
I
V

Langsom
Fluepapir

96
209

Pinguicula (vibefedt)
Drosera (soldug)
Lentibulariaceae
Droseraceae
Nordlige halvkugle
Hele verden undtagen Antarktis
Hurtig
Rævesaks

1
1

Dionaea
Aldrovanda
Droseraceae
Droseraceae
N og S Carolina (USA)
Central Eurasien, Afrika, Kina
Musefælde

225


Utricularia (blærerod)

Lentibulariaceae

Hele verden undtagen Antarktis

Pumpe
Åleruse

21

Genlisea
Lentibulariaceae
Afrika, Mellem-Syd
Bromeliaceae
Bromeliaceae
Sarraceniaceae
Sarraceniaceae
Sarraceniaceae
Nepenthaceae
Cephalotaceae
Venezuela, Guayana
Southern Florida – SE-Brasil
Guayana
Oregon – California
Eastern USA – Cenral Canada
SE-Asia, Madagascar
SW-Australien
Martyniaceae
Byblidaceae
Dioncophyllaceae
Drosophyllaceae
Southern USA – Mexico
West Australia
Sierra Leone – Liberia
Portugal – Morocco (coastal)
Lentibulariaceae
Droseraceae
Northern hemisphere
Global except Antarctica
N and S Carolina (USA)
Central Eurasia, Africa, Australia, China, Japan
Africa, Central America-South America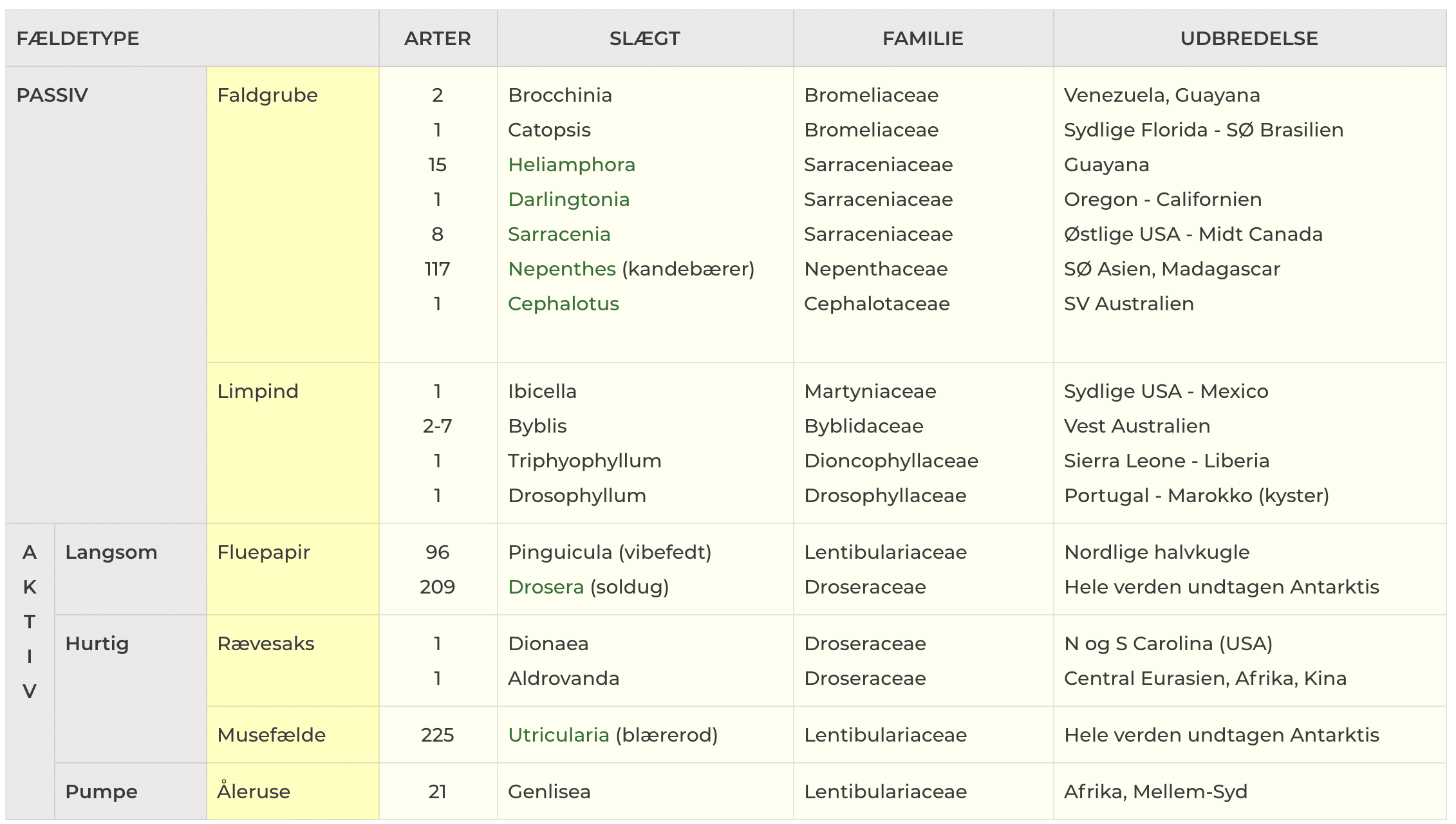 Carnivorous plants are defined as plants able to a) lure, b) catch, c) break down smaller animals by an exogenous (outside, i.e. on the surface of the trap) digestive process and d) absorb the digestive products by special glands on the surface of the trap. Several plants have the ability to carry out one or more of the items, but all four items must be fulfilled before a plant can be classified as carnivorous.
The classification used in the table above considers if the trap or part of the trap perform a movement during the capture (Passive, Active) and the method used for capturing prey. In some genera the number of species has increased considerably in recent years, primarily as a consequence of splitting up 'old' species. In this way the total number of carnivorous flowering plants is now about 600.
Drosophyllum was earlier included in Droseraceae. The genus Biovularia is now included in Utricularia, and some taxonomists argue that Polypompholyx should also be included in Utricularia. Lentibulariaceae is often used as synonym for Utriculariaceae, the bladderwort family. The genera Brocchinia, Catopsis, and Ibicella also include non-carnivorous species. In species rich genera, the shown figure is most likely a minimum figure since it is still possible to find new species in poorly investigated areas.

The Danish page Carnivori på frimærker shows stamps with carnivorous plants as motive.
H. S. Heide-Jørgensen – updated February 2021