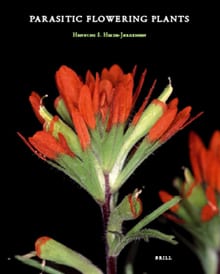 From: TAXON 2010 vol. 59 page 1313 by Rudolf Schmid:
From: Blumea 2010 vol. 55 pp 102-103:
Heide-Jørgensen HS. 2008 Parasitic flowering plants. xiv +
438 pp., 495 colour illustrations. Brill, Leiden. ISBN 978-90-
04167-50-6. EUR 99; USD 147.
This is a beautifully illustrated book presenting an overview of the whole variety of hemiparasitic and holoparasitic taxa
of flowering plants. It provides a clear introduction to the phenomenon of botanical parasitism, the different types, and
some anatomical characteristics. Some interesting look alikes are mentioned, especially myco-heterotrophic plants, but also
climbers, stranglers and carnivores.
—The second and largest chapter is devoted to the hemiparasitic Santalales, followed by a much smaller chapter on
hemiparasites in families other than Santalales. The fourth chapter treats the holoparasitic families. The 3 taxonomic chapters
are arranged to families and for each family in varying detail are treated the morphological and taxonomic diversity, special
anatomical features, geographic and ecological distribution, and various biological aspects like pollination, embryology,
dispersal. It appears that in most of the families all species are parasitic, overall 60 % being root parasites and 40 % stem
parasites.
—The hemiparasitic Santalales sum up to a total of c.2 240 species in 8 families; the main families being Loranthaceae,
Viscaceae, Santalaceae, and to a lesser extent Olacaceae.The hemiparasites in families other than Santalales count somewhat
less, c. 1 980 species in 4 families; by far the largest being Orobanchaceae. The t holoparasitic families comprise c. 390
species; 3/4 belonging to Orobanchaceae.
—The last four chapters are describing general aspects, i.e. the Establishment of the parasite, the Host ranges and various
ecological aspects of parasitism, Harmful parasites and control methods, and Ecology and evolution respectively. Regarding
the establishment, the main focus is on the haustorium, its development, anatomy and functioning. A major topic in the
chapter on hosts and ecology is host specificity, the usual case for root parasites being many hosts and a low degree of
host specificity, whereas stem parasites show a larger range from low to high degrees. The potential harm of parasites is
described for agricultural crops and for woody plants (forests and orchards). Only few species (mainly Cuscuta, Striga and
Orobanche) parasitize (a relatively broad array of) agricultural plants, whereas members of Viscaceae and Loranthaceae are
present on woody economic plants.
—The last chapter is an interesting one, treating some aspects of the evolution of the diversity of parasitic flowering plants
(only one out of the c. 900 gymnosperms is (root) parasitic, endemic to New Caledonia). Several hypotheses of the origin
of parasitism are discussed, all starting from the general idea that the original condition is hemiparasltic root parasitism. A
detailed account is given on series of functional morphological and anatomical features, with special attention for convergent
evolutionary trends. It is obvious that convergent evolution has to be assumed as parasitism is represented in 11 orders,2 in
the magnoliid clade, one basal eudicot clade, 5 in the eurosid clade and 3 in the asteroid clade. The final paragraph is a plea
for increased protection measurements.
—All in all, this is a very informative book, giving state of the art views. It is well recommended!
M.C. Roos

From: Bulletin of the British Ecological Society 2008 39:4 page 37:
Parasitic Flowering Plants
Henning S. Heide-Jørgensen
(2008) BrilI, Leiden, The Netherlands.
$148.00 (hbk)
ISBN 078-90-04-16750-6

This is one of those books that you idly pick up, flick through looking at the gorgeous pictures, read snippets of information and before you know it, you've missed the train home. The 400 odd pages cover every family of parasitic plant known in the world and most of the genera, organised systematically. The pictures are high quality and stunning, and the text is designed to be approachable by anyone with a basic command of biology, supplemented by a simple glossary at the back. It is crammed with interesting bits of information such as a weighing up of the evidence for whether the British toothwort (Lathraea squamaria) is carnivorous or not, and if not why does it have mitochondrialrich epidermal glands? (These glands appear to have much more to do with aiding transpiration and nutrient movement in a plant that is underground most of the time.) Since the book is so wide ranging, you won't find much information about your pet British plant, but it does give some information (albeit eclectic and by no means complete) on pretty much anything you´re likely to come across around the world. To keep the text readable there are very few references quoted in the text and just a short bibliography at the back. On the plus side, the references suited to a general readership are highlighted. This is not really a text that you would expect an undergraduate to use for an essay but it is fascinating book that would make a good present for a favourite young relative (and at the price they would have to be very favoured) who has a developing interest in science. Or get it for the School library; it has that important 'wow' factor.
Peter Thomas


From Rezensentin "Rezensent" (Deutschland) 28 Feb 2010
Parasitic flowering plants (Hardcover)
by Henning S. Heide-Jorgensen
… an all-time favorite!,

… when I ran over this book at the library of the Institute of Botany in Vienna, I was awestriken and baffled, and have remained so ever since … seen a lot of books and plants, but this one is exceptional!
Though most of us would prefer the morally superior idea of mutualism over that of unreciprocal exploitation of others, the idea of parasitism has a keen fascination for its intriguing "mean"ness! How can life be so mean! We usually attribute such things to animals … and maybe humans, but plants? Everybody knows the fate of accidentally standing under the mistletoe: undeserved happiness or mere disgust! – but none can imagine the diversity, beauty, and inspiration granted by "Flowering Plant Parasites" that the author so marvelously present in this masterpiece.

This book is my "book of the year" … hard to describe the intriguing beauty of these plants, … and then the devotion of the author having dedicated his professional life to traveling the world in order to find and see (and photograph) all these "beauties" for himself – his authoratative knowledge of the ecological, microanatomical and functional relationships of these plants the mere existence of which most people would not be able to imagine in their "wildest" dreams, has been enormously inspiring … this book is unique, … high-quality production, perfectly done … just check out the Amyema scandens from New Caledonia … unbelievable!

For anyone who's got a passion for plants: this book is a must and will certainly become one of your all-time favorites!
Theodor C. H. Cole, Heidelberg
5.0 out of 5 stars Wonderful book for Hard Core Weird Plant Lovers! December 1, 2010

This review is from: Parasitic Flowering Plants Hardcover
I don't think anybody would get this far unless they love weird plants. If you do then buy this book! It has fantastic pictures and fascinating text. It's a beautiful & interesting book. I liked it so much that I went out and bought 4 more books on parasitic plants (plus lots of parasitic plant and host seeds). Ok, I REALLY like weird plants. Naturally it is a very specialized book but it is also fairly easy to read. The only drawback is the occasional funny typo which just adds a bit of charming whimsy to the book and really doesn't detract from the enjoyment of the book at all.

Lloyd P. Gordon


From Gardens Bulletin Singapore 61: 305-306 (2010):
Heide-Jørgensen, H. S. 2008. Parasitic Flowering Plants. Brill NV, Leiden. 438 pp., numerous color photographs.
ISBN 978 90 04 16750 6. Price: € 99/ US $147.
It is a pleasure to review such a beautiful book as this. The author has clearly crafted a labor of love based on decades of study and research, followed by years of efforts to write, design, and illustrate it. The book brings together an enormous amounts of information about the biology, physiology, taxonomy, life history, and systematics (classification) of all flowering plants that are wholly or partly parasitic by nature. Their global distribution is mapped by family, which is a very handy feature.
—In total the author estimates that there are approximately 4,490 species of parasitic plants known, of which ca 4,100 species are hemiparasites (partly self-sustaining through photosynthesis) and only 390 species are holoparasites (entirely dependent on a host plant for survival). This total represents less than 1% of the estimated number of flowering plant species on earth. While the book does not present any figures for how many species are covered, an impressive diversity of them has been described and illustrated.
—Virtually every page of text is enlivened by color photographs, most are of good to high quality, photomicrographs, schematic diagrams, and line art. The list of photo acknowledgments extends to 4 full pages; the amount of effort the author must have expended to track down and obtain permission to use the hundreds of color images in the book can scarcely be imagined. Only someone passionate about parasitic plants could have seen through to the end the task of searching for, and obtaining permission to use, so many fine color images, with such admirable results. Readers interested to know more about a particular image will find the full contact details provided for the photographers, a welcome touch. I note, in passing, that among the photographers is Singaporean Joseph T. K. Lai, and readers can expect to find photos in the book that were taken in Singapore.
—Quibbles: there are a few. The running head on every one of the 438 pages states the title of the book, Parasitic Flowering Plants, but the reader has no idea in which of the 8 chapters or 43 subchapters he/she is in on any of those pages. In an information-dense and copiously illustrated tome such as this, finding one's way around within the book can be tricky, especially given the number of cases where illustrations cited in the text appear elsewhere in the book. It would have been far more user-friendly to use the running heads to indicate the chapters and subchapters to ease internal navigation.
—Like many books that are edited by the author, there are some quirks and oddities of a very minor nature that creep into the text. Another pair of eyes is always beneficial in catching these little gremlins and removing them. For example, the state of New Jersey (USA) has consistently been rendered as "New Yersey" everywhere it occurs in text and photo captions. On the whole, however, typos are remarkably few and the text reads very well.
—The price is off-putting: like most books published by scientific and technical publishers the price tag will deter many people from buying this magnificent book. It is to be hoped that Brill will produce a soft cover edition at a more economical price. Libraries, scientific institutes and the serious student of parasitic plants will buy the hardcover edition but the general public probably will not, purely for cost consideration. And that is a pity, because there is so much information contained in the book that will fascinate, educate, and delight anyone with an interest in the natural world. It is to be hoped that Singaporeans, and others in Southeast Asia generally, will splurge and indulge themselves by buying this book – it has much to offer. And all of the parasitic flowering plants native in our part of the world – Rafflesia, Striga, Balanophora, even a species of Lepionurus – are to be found within its covers, which brings the information in this book very close to home.
—I can wholeheartedly offer my sincere congratulations to the author and publisher for bringing this comprehensive and beautiful work into existence; I believe it will be the standard of excellence on the subject of parasitic plants for decades to come.
George Staples
Senior Researcher
The Herbarium
Singapore Botanic Gardens

From: Ecology, 90, 2009, pp 857-858:

A world of opportunists, the parasitic plants
Heide-Jørgensen, Henning S. 2008. Parasitic flowering plants.
Brill, Leiden, The Netherlands. xiv+438 p. $148.00.
ISBN: 978-90-04-16750-6 (acid-free paper).
Key words: haustoria; hemiparasitism; holoparasitism; host-parasite interactions; parasitic plants
All kingdoms of life from Archaebacteria to Animalia exhibit organisms with a parasitic approach to living whereby they opportunistically acquire resources from a host. Plants are no exception. Approximately one percent of documented flowering plants, or 4500 plant species, distributed across the globe are parasites. One of the first comprehensive books on parasitic plants, Job Kujit's classic, The biology of parasitic flowering plants (1969. University of California Press, Berkeley, California), is the inspiration for Parasitic flowering plants. Since the publication of Kujit's book, a number of texts have been written about weedy parasitic plants or particular topics on parasitism in plants, such as anatomical structures. Parasitic plants (Press, M. C., and J. D. Graves, editors. 1995. Chapman and Hall, New York) is one of the few books written since Kujit's work that integrates a wide body of knowledge about the basic biology of parasitic plants. Press and Graves' edited book is written primarily from a technical standpoint and addresses an audience of researchers and academics. Lacking from the literature is a modern book on parasitic plants that is interesting to researchers, yet accessible to everyday readers. In the preface of his new book, Henning S. Heide-Jørgensen sets out to instill in both novice and expert readers an appreciation for the world's parasitic plants. By and large Heide-Jørgensen accomplishes this goal.
—Parasitic flowering plants begins with the first of eight chapters by distinguishing parasitic plants from plants that might be incorrectly considered parasitic such as epiphytes, mycoheterotrophs, and carnivorous plants. Chapter 1 also distinguishes between stem vs. root parasites and hemi- vs. holoparasites and briefly describes the anatomical structure plants use to parasitize host plants, the haustorium. Then Heide-Jørgensen launches into an overview of the twenty families of plants with parasitic species. This overview consists of three chapters, comprising nearly three-quarters of the book. Recent molecular studies have moved many parasitic plant species into different families. Specifically, many species previously in the Scrophulariaceae are now in the Orobanchaceae. This work provides a timely synthesis of these recent taxonomic re-classifications. Throughout these chapters considering taxonomy there are interesting tangents on seed dispersal, pollination, and the cultural significance of parasitic plants that maintain the reader's attention despite a bombardment of scientific nomenclature.
—Following the taxonomic overview, the remaining four chapters of the book focus on the physiology, ecology, control, and evolution of parasitic plants. In my opinion, these are the chapters that will most easily entice the broadest group of readers because they provide the context for studying parasitic plants. Chapter 5 traces parasitic plants from germination and host recognition to the formation of the haustorium and the physiology of water relations. The large collections of high-quality photographs taken by microscope that appear in this section help the reader to visualize the establishment of the parasite on the host. The next chapter considers the ecology of interactions between host plants and non-host organisms such as pollinators, seed dispersers, and herbivores. A description of vegetation types where parasitic plants occur is also included. Chapter 7 identifies the relatively few, though heavily studied, species of parasitic plants harmful to agriculture and forestry, along with methods on their control. The final chapter unifies all the ecological information on the various taxa from an evolutionary perspective. The book closes with an acknowledgement of the need to conserve the world's unique parasitic plants.
—Parasitic flowering plants has three primary strengths. First, the book has over 495 color pictures and illustrations (495 numbered Figs. but more than one thousand photographs and graphics). These pictures both instill an appreciation for the beauty of parasitic plants and reinforce the concepts that the book presents. These pictures along with the text truly inspire a fascination of the parasitic flowering plants of the world. Second, throughout the text there are charming pieces of information on the cultural and medicinal significances of parasitic plants. These anecdotes keep the reader interested despite the somewhat repetitive descriptions of different families in the taxonomic chapters. Third, the inclusion of a glossary of technical terms that is referenced throughout the text provides definitions of technical terms used. This glossary is especially instrumental in making the book available to a broader audience.
—There are a few alterations that might improve the book. First, the organization of the material in the book may not grab the readers' attention and provide enough background in the beginning. After a brief introduction to parasitic plants, the book focuses for quite some time on taxonomy. Given that the purpose of the book is to inspire an appreciation for parasitic plants in a wide group of people, moving the last four chapters from the end to the front of the book would provide more context to readers to ensure that they understand why parasitic plants are so captivating. Second, the book needs better editing. At times there are several misspelled words on a single page, or all of the symbols given in a figure legend are not actually included in the figure. These typographical errors tend to detract from the contents of the book. Third, there are unfortunately no footnotes or within-text citations referencing the selected literature at the end of the book to direct readers to further information. In particular, when the book describes the modes of seed dispersal for an entire genus, such as Pedicularis, it would be helpful to know if such extensive research really has been done on all of the species within the genus. Better documentation of references to assert the facts presented would strengthen this work.
—Parasitic flowering plants fills a gap in the literature by providing a comprehensive overview of parasitic plants that is accessible to both researchers and everyday readers. On the whole, Parasitic flowering plants accomplishes Heide-Jørgensen's goal of instilling an appreciation for parasitic plants in a broad audience through the book's plethora of colorful pictures, interesting anecdotes, and synthesis of the large body of information on parasitic plants. This work truly inspires an admiration for the diversity of forms and unique ecology and evolution of this world of opportunists, the parasitic plants.
SYDNE RECORD
University of Massachusetts
Department of Biology
Amherst, Massachusetts 01035

From: The Flora of Zimbabwe homepage (Go to Notes):

A Review of Parasitic flowering plants by Henning S. Heide-Jorgensen, published by Brill, Leiden. XIV + 438 pp.
Parasitic and (hemiparasitic) plants are very much a feature, although a relatively small one, of the Zimbabwean flora. One thinks immediately of the mistletoes (Loranthaceae and Viscaceae), the crowded flowers of Berlinianche aethiopica, usually to be found on Julbernardia twigs and the broomrape, Orobanche minor, which we occasionally encounter on our outings.
The lifestyles of these unusual plants are of extraordinary interest; furthermore many such plants are brightly coloured and eye-catching and it is therefore timely to come across a work dedicated to these extraordinary organisms.
—As the author remarks in his preface, the "book can be read without special botanical background knowledge" and indeed in the first Chapter, Introduction, the reader is gently and logically introduced to the basic concepts. Initially, the author clears the decks by discussing exactly what is a parasitic plant. Parasitic look-alikes such as epiphytic species, which merely grow on other living things but without extracting sustenance, are discussed. Examples of these are epiphytic orchids, strangler figs and plants such as Virginia creepers and ivies with their specialist 'holdfasts'. Other special groups such as the myco-heterotrophic species (formerly known as saprophytic plants) and carnivorous plants, which might be thought to be parasitic, are also defined and differentiated.
—Parasites are classified into 4 main groups depending on whether they are hemiparasitic or holoparasitic and whether they are root or stem parasites. Parasites form approximately 1% of the world's flora by number and the great majority of those (c. 90%) are hemiparasites. Interestingly, all parasites are dicotyledons, with the exception of the controversial gymnosperm, Parasitaxus usta, which is discussed at length.
—In Chapters 2 and 3, Dr Heide-Jorgensen discusses the main hemiparasitic families. The holoparasites, which lack chlorophyll, and which are perhaps the most extraordinary-looking species, are treated in Chapter 4.
—In Chapters 5, 6 and 7, more general aspects of these plants are discussed, namely how parasites are established (Chapter 5), the relationship between host and parasite (Chapter 6), harmful parasites and their control (Chapter 7) and the ecology and evolution of parasitic plants (Chapter 8). The last chapter ends with a discussion on conservation and the threats to these plants in the wild.
—The cover of the book shows an striking North American species, Castilleja coccinea, on a black background. A particular feature of the book, in my opinion, is the large number of excellent photographs, which illustrate and elaborate on the themes being presented.
—I have no hesitation in recommending this sumptuously-produced book.

On a more practical level, a number of errors have been discovered following publication and these are listed, together with their correct versions, on the Web at:
http://www.viscum.dk/abstracts/text/abstract_59.htm
Mark Hyde
Tuesday, 27 January 2009

From: CASTANEA Vol. 74 pp. 89-90 (2009):
Heide-Jorgensen, Henning S. 2008. Parasitic Flowering Plants. Brill, Leiden, The Netherlands.
438 p. Hardcover. Color illustrations. $148.00 (99 Euros). ISBN 978 90 04 16750 6.
This profusely illustrated book is a worthy successor to Job Kuijt's seminal Parasitic Flowering Plants, published in 1969 and widely acknowledged as the beginning of modern research on parasitic vascular plants. So it is fitting that this volume should be dedicated, in part, to Job Kuijt and share the same title as his book.
—Like its worthy predecessor, Heide-Jorgensen's volume covers most areas of these plants' biology. The review of earlier parasitic plant research is short, and the classic work of Chatin is not referenced. Reflecting the author's earlier work on anatomy, the structure of the haustorium is well described with excellent micrographs as well as helpful interpretive diagrams (but see below). The section on Parasitaxus usta, based on the careful work of Feild, will help to finally clarify the nutritional relationships of this mycotroph, which lives in close association with its fungal component and another gymnosperm, Falcatifolium taxoides. For many years most researchers, including myself, considered it the only parasitic gymnosperm, so it is stunning to think of its habit being closer to Monotropa than a mistletoe.
—The bulk of the book is a survey of the families and the majority of the genera of parasitic plants. Each genus treatment covers the taxonomy, distribution, floral biology, and a large amount of other up-to date data. The taxonomic hierarchy includes phylogeny of the Angiosperm Phylogeny Group current at the time of writing. Thus, Rafflesiaceae, for example, no longer includes Pilostyles and other groups. The parasitic Scrophulariaceae are placed in the Orobanchaceae (though at least once referred to as parasitic scrophs). Many other groups are realigned. Unfortunately, recent research on the phylogeny and taxonomy of Santalalean groups is missing. Reflecting recent research, there is a section on the role of parasitic plants in their respective ecosystems as well as a chapter on crop parasites. All of these treatments have copious full color illustrations taken by parasitic plant researchers throughout the world. Many have already appeared on the award winning Parasitic Plant Connection web site (http://www.parasiticplants.siu.edu/)
—Going through this book is like seeing a favourite black and white movie in color as so much of the work reviewed here was first published in black and white. Among these are the careful investigations of the parasitism of Exocarpus by Fineran, numerous studies by Kuijt, and many others. So much information has been garnered and presented in color for the first time.
The quality of the color images deserves note. I have seen many of the plants in the field and therefore am pleased at the accuracy of the color reproduction. Kudos to the publisher for such wonderful color! This is one of the few books where there may actually be too many images; some genera are illustrated more than once.
—While attempts are made to make the book accessible to the non-specialist, in reality this is a book for botanists. Including a sidebar box to explain the plant cuticle and a box for photosynthesis do little for the non-biologist. The average naturalist is going to be like the average general biology freshman looking at corn stems in cross section-bored or confused. Asterisks by such words as "endemic" that lead the reader to the glossary are a distraction. The book is such a sumptuous presentation of the wonderful form, color, and charm of these plants that a non-botanist can feast on it but find the text unappetizing.
—On the other hand, the professional botanist who might want this as a source for literature references will be sorely disappointed. For reasons not clear, the literature cited section is truncated and uneven. There are numerous references, for example, to Heide-Jorgensen's work and that of Fineran but not a single citation for De Pamphilis or Nickrent who have both contributed so much to our understanding of evolution and phylogeny of parasitic plants. Many other examples could be noted.
It is unfortunate that such a volume was not more carefully edited. There are numerous spelling errors (Californica for California, New Yersey for New Jersey), grammatical errors (agreement of subject and verb), and syntactical errors. This is an expensive book at 99 Euros but reasonable considering the hundreds of full color pictures.
—To many of us, Kuijt's classic cannot be improved even though it is almost forty years old and has only black and white illustrations; the heuristic value of his work has proven remarkable over the decades. I wish the same for Heide-Jorgensen's book, which will be required reading for every parasitic plant worker. It should also be in every college or university library as the most up to date treatment of this most intriguing group of plants.
Lytton John Musselman, Department of Biological Sciences, Old Dominion University, Norfolk, Virginia 23529.

An almost identical review was published in Haustorium 53 p. 9-10 (2008) and the authors' comments below cover both reviews
Author's comments to the reviews by Lytton Musselman:
The review above is positive for which I am grateful. Nonetheless, I have some comments:
—The title of Job Kuijt's book published in 1969 is 'The biology of parasitic flowering plants'; hence the two titles are not identical.
—The note on Parasitaxus usta saying 'it is stunning to think of its habit being closer to Monotropa than a mistletoe' should be read with caution. The three-part relationship between Parasitaxus, Falcatifolium, and a fungal mycelium occurs within the same physical frame set by Falcatifolium, while Monotropa and other recognized mycotrophs earlier known as saprophytes have no direct physical contact to the autotrophic plants they are dependent on and connected to via a fungal mycelium. Parasitaxus really seems to be something special with no known clear parallels in other taxa.
—The introduction to chapter 2 'Hemiparasitic Santalales' explains why I am taking a moderate, conservative view on plant classification in Santalales and I do not think a semi-popular book is the right place to fill with a variety of phylogenetic trees and boot-strap considerations for all taxa. However, the erection of Schoepfiaceae is recognized in the book as well as that several genera have been removed from Olacaceae. Further spitting up of Santalalean families was not confirmed when the manuscript was submitted, but a note on page 96 states it may well be that molecular biologists in the near future will split the family (Santalaceae) into several minor families.
—It was never the idea to provide a full coverage of the history of research in parasites. If so, many other than Chatin should be mentioned. Although Chatin's work 'Anatomie comparée des végétaux. Plantes parasites' published 1892 is comprehensive, I do not think it is of interest to the general reader.
—I would leave to the non-botanist to evaluate if the asterisks referring to the glossary and the sidebar boxes are of any use or not. Other reviewers on this page take the opposite view of Musselman.
—Musselman complains about the Literature List being truncated and uneven, but in the book, I made it clear it is a selected list consisting of references mentioned in text and Figure legends plus a few extras. I also think it is reasonably clear from the preface that the book is not a scientific book but aimed at a wider audience than botanists, so a complete list of references cannot be expected. Most of the references are listed in demand from the publishers for permissions to use Figures and this includes my own papers.
—It is overlooked that Nickrents' website is included in the list and mentioned as a comprehensive WEB-site on parasitic plants. However, since I was not allowed to use any illustrations originating from his laboratory there was no basis for including further references.
—I fully agree my English could be improved and I deeply regret that proofreading in this case had to be cancelled before publication. As compensation, an updated Corrigenda list is available at http://www.viscum.dk/abstracts/text/abstract_59.htm
—I have twice asked Lytton Musselman as the editor of the newsletter 'Haustorium' published by the International Parasitic Plant Society to make a note on the existence of the Corrigenda page, but he seems to have forgotten the promise.
—In the 'Haustorium' review, the Ogyris example is not a misspelling for Osyris. Ogyris is a butterfly. My sirname is spelled with a Danish ø, Heide-Jørgensen.

From Palmengarten 76/1 (2012):

Das vorliegende Buch ist eine reiche Quelle für äußerst spannende Aspekte aus der Welt der Pflanzen. Es ist nicht nur Botanikern, sondern allen naturwissenschaftlich Interessierten sehr zu empfehlen und sollte in keiner botanischen Bibliothek fehlen. Aufgrund der üppigen Ausstattung mit Farbabbildungen auf fast jeder Seite ist der relative hohe Preis absolut gerechtfertigt.

Hilke Steinecke
From Gärtnerisch-botanische Literatur:
Henning S. Heide-Jørgensen
Parasitic Flowering Plants
Brill, Leiden, Boston, 2008, 438 S.,
zahlreiche Farbabbildungen, Hardcover,
ISBN 9789004167506; 99,– €.
Auch wenn dieses Werk schon vor gut drei Jahren erschienen ist, verliert es nichts von seiner Brillanz und ist noch immer eine Empfehlungwert. Parasiten im Tierreich wie Kopfl äuse oder Darmwürmer sind uns als lästige Schädlinge oder Verursacher von Krankheiten bekannt. Parasiten im Pflanzenreich dagegen werden oft gar nicht wahrgenommen oder sogar, wenn es sich um Halbschmarotzer mit Blattgrün handelt, nicht als parasitierend eingeschätzt. Umgekehrt werden "harmlose" Aufsitzerpflanzen wie Orchideen oder Bromelienvon Laien häufig als Schmarotzer bezeichnet. Manche Parasiten treten oft nur während ihrer Blütezeit in Erscheinung wie z. B. der im Mittelmeergebiet heimische Malteserschwamm. Einige andere haben äußerst spektakuläre Blüten, man denke dabei an Raffl esia. Nicht vernachlässigt werden sollte die ökonomische Bedeutung einiger Parasiten, sei es die Mistel als Heilpflanze oder aber z. B. die Orobanchen, die im Mittel-meergebiet auf Äckern erhebliche Schäden anrichten können.
In einem einleitenden Kapitel werden in anschaulicher und gut verständlicher Weise die Prinzipien des pfl anzlichen Parasitismus erklärt, Unterschiede zwischen Hemi- und Holoparasiten dargestellt und charakteristische Organe wie die Haustorien erläutert. Übersichtsfotos, Makroaufnahmen, raster-elektronenmikroskopische Fotos sowie schematische Abbildungen tragen sehr gut zum Verständnis des Textes bei. Den größten Teil des Buches nimmt die Beschreibung der einzelnen Halb- bzw. Vollparasiten, sortiert nach Familien, ein. Dabei begegnen uns aus der heimischen Flora vertraute Gattungen wie Augentrost und Wachtelweizen, aber auch Arten aus exotischen und eher unbekannten Familien. Ökologie und Evolution von Parasiten, Beziehungen zwischen Wirt und Parasit, für die Landwirtschaft gefährliche Arten und deren Bekämpfung werden vorgestellt. Das Buch besticht durch seine zahlreichen, brillanten Fotos von seltenen Parasiten, von denen man in der botanischen Literatur z. T. nur selten Abbildungen findet. Der Text ist sehr fundiert und gleichzeitig gut verständlich geschrieben. Eine umfangreiche Literaturliste rundet das Werk ab. Eine vierseitige Liste der Bildautoren lässt erahnen, dass hinter der Erstellung dieser Publikation umfangreiche Recherchen und fl eißige Arbeit stecken. Das vorliegende Buch ist eine reiche Quelle für äußerst spannende Aspekte aus der Welt der Pfl anzen. Es ist nicht nur Botanikern, sondern allen naturwissenschaftlich Interessierten sehr zu empfehlen und sollte in keiner botanischen Bibliothek fehlen. Aufgrund der üppigen Ausstattung mit Farbabbildungen auf fast jeder Seite ist der relativ hohe Preis absolut gerechtfertigt.

Hilke Steinecke
Go to: Parasitic flowering plants