H S Heide-Jørgensen 2008: Parasitic flowering plants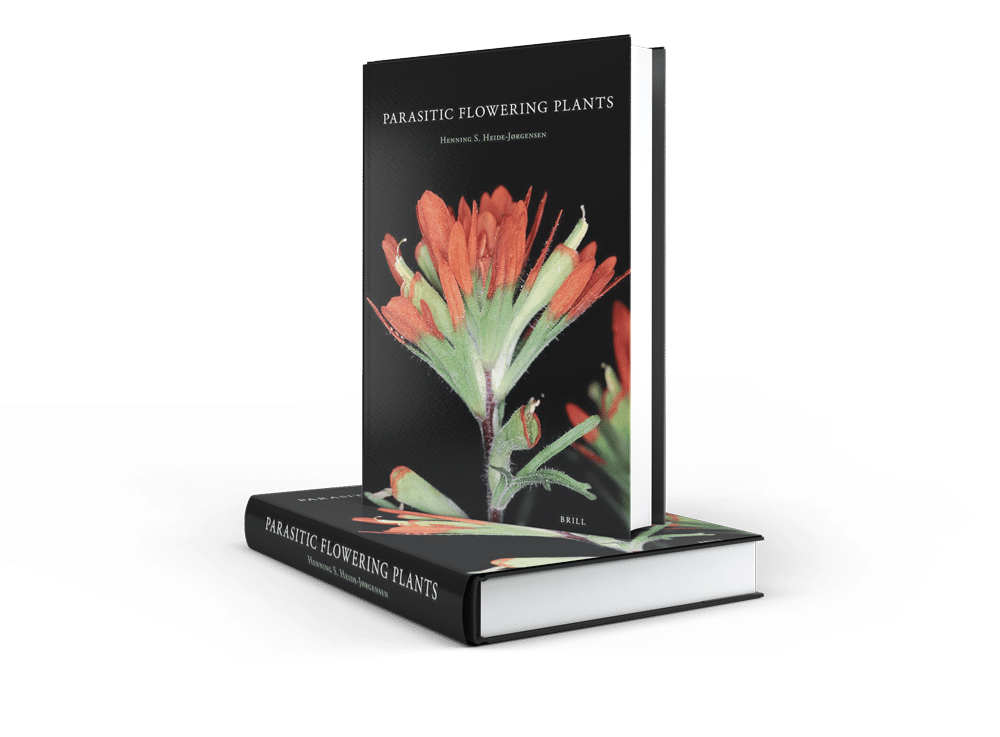 Cover: Castilleja coccinea. – Photo: Carol Gracie
From the Preface by Dr. Job Kuijt:
The present book, therefore, fills a great need, and does so with style, and on a worldwide basis. It provides a harmonious account of fascinating information on a general ecological and evolutionary backdrop, and is profusely illustrated with excellent photographs. Dr. Heide-Jørgensen has done an outstanding job in providing a balanced presentation that will be a gem on anyone's bookshelf, whether a professional or an interested naturalist. At long last, the parasitic plants of the world have received the treatment they so richly deserve.
Job Kuijt
University of Victoria, B.C.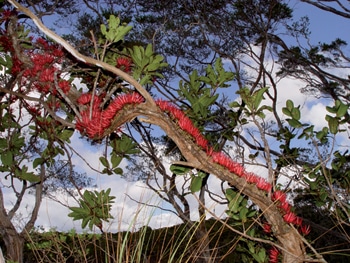 Amyema scandens (Loranthaceae) from New Caledonia flowering from epicortical roots. Photo: Bernard Suprin.
Review by Prof. Dr. Harro J. Bouwmeester, Wageningen:
This beautifully illustrated encyclopedia of parasitic plants gives a fantastic overview of the morphological variety of parasitic plants, and describes and illustrates the adaptations that enable plants to be parasitic. The illustrations are magnificent and can only make you admire how nature has created such wonderful creatures almost as if it wants to mask their mal-intentions. In addition to the wonderful illustrations, the book reviews important aspects of plant parasitism such as the physiological mechanisms, the ecology and the putative evolution of parasitism in plants. Hence, the book is a rich source of facts and need-to-knows about parasitic plants and therefore will be a valuable handbook for scientists and a fine introduction to parasitism in plants for non-scientists.
Agelanthus flammeus (Loranthaceae) with directional explosive flowers pollinated by sunbirds. – Photo: Darrel C. H. Plowes.
Facts about the book:
Hardcover with XIV + 438 pages and about 50% illustrations based on 1005 files. About 90% are in colour.
21 distribution maps besides other graphics.
9 explanatory boxes.
Glossary.
Selected literature.
List of photographers (128 persons have contributed).
Index with about 5000 page references.
     Reviews               Award                Corrigenda              Contents
1st print published by Brill, The Netherlands with financial support from Aage V. Jensens Funds and the Danish Minestry of Science, Technology, and Innovation. 2nd print with corrections published without funding. List price: EUR 129 / US $ 177.
How to order: see this link to Brill.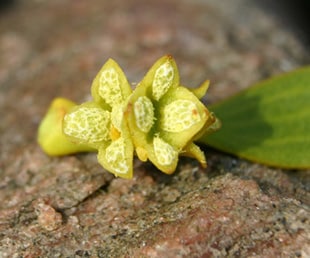 Viscum album (European mistletoe), male flowers with open pollen sacs. - Photo: H S Heide-Jørgensen.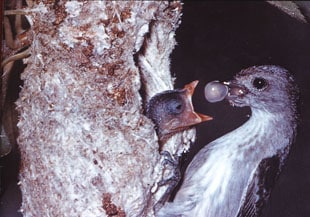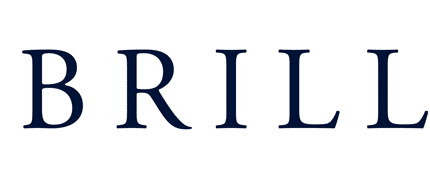 The book is written in mostly non-technical English but where technical terms are used they are explained in the text, in the Glossary, or in boxes. Hence, the book can be read without special botanical background knowledge. It has been necessary to use Latin plant names since popular names with few exceptions have only local value.
Who knows the photographer/copyright holder?
Mistletoe bird, Dicaeum arundinaceum, feeding its young with fruits, presumably of Amyema sp.?
The photographer should be Philip Green. If you know how to contact him, please, send the author a note.